You are here
Country Representative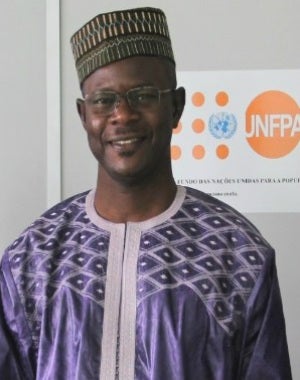 Cheikh Fall
Cheikh Fall was appointed the Representative for UNFPA in Guinea-Bissau, on October 2018.
Mr Fall joined UNFPA in 1992 as program officer for Guinea Bissau, Cape Verde Island and Senegal based at Bissau, Guinea-Bissau, for 5 years.
From 1997 to June 2000, he carried out the duties of management officer with UNFPA Country Support Team covering 17 countries in West and Central Africa.
From July 2000 to September 2003, he performed as Johns Hopkins University/Center for Communication Programs (JHU/CCP) Country Representative and BCC expert in the Senegal Maternal Health and Family Planning Project funded by USAID and implemented by Management Sciences for Health in collaboration with JHU/CCP and the Futures Group.
From September 2003 to December 2008, he was appointed as UNFPA Senegal Assistant Representative and in this quality, he benefited from a short assignment in UNFPA HQ as program specialist for 5 months covering 8 countries in the Western Cluster of Africa Division.
From January 2009 to May 2014 he performed duties of UNFPA Program Coordinator and Deputy Representative in Rwanda Country office.
From May 2014 to November 2015 he was appointed Deputy Representative with UNFPA Haiti.
From November 2015 to October 2018, he took charge of UNFPA Representative in Guinea Conakry CO.
Before joining UNFPA, Mr. Fall worked as civil servant at various levels in Senegalese government from 1987 to 1992.
.