"The 2019 celebration of World Population Day is an act that invites each of us to analyse and seek solutions on what to do to accelerate the promises made in adopting the ICPD action plan by our government "said Tomasia Lopes Manjuba, Secretary of State for Planning and Regional Integration during World Population Day celebrations in Guinea-Bissau.  
The United Nations Population Fund (UNFPA), in partnership with the Government of Guinea Bissau and the Ana Pereira Foundation (FAP), jointly celebrated on July 11th, the 2019 World Population Day in Bissau under the motto "25 years of the International Conference on Population and Development (ICPD): Accelerating the Promise".
Held at the French Cultural Center in Bissau, the event was chaired by the Secretary of State for Plan and Regional Integration, Tomasia Lopes Manjuba, representing the Minister of Economy and Finance, in the presence of the UNFPA Representative in Guinea-Bissau, Cheikh Fall, heads of sister United Nations agencies, diplomats accredited to the country, members of government institutions and civil society, and community leaders.
Tomásia Lopes Manjuba stated "Our individual actions can make a huge difference, essentially that of the government. Thus, the present and the future of the population, especially women and young girls, will depend on the action of each of us, especially the Government's willingness and capacity to adopt the ICPD action plan", before concluding by thanking the support of UNFPA and other partners that made it possible at this particular political and social moment to hold this event" ,
This year's World Population Day draws global attention to the commitments of the 1994 International Conference on Population and Development where 179 governments, including Guinea-Bissau, have adopted a Program of Action that recognizes that reproductive health, women's empowerment and gender equality are the road to sustainable development.
"There are many girls and women in Guinea-Bissau, who, for reasons associated with the violation of their human rights, have not lived to tell their story and are part of the statistics and figures that embarrass us, but at the same time mobilizes us for the daily struggle of commitment to Rights, Education and Sexual and Reproductive Health "said Maimuna Gomes Sila, Chair of Ana Pereira Foundation. Ana Pereira Foundation aims to promote and develop initiatives of a social nature in the fields of education and health, and have been partnering UNFPA in Guinea-Bissau in multiple occasions.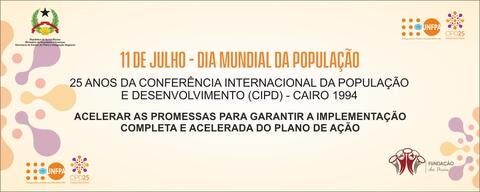 "In Cairo, we imagined a bright future in which all pregnancies are desired where all women and girls have autonomy over their own bodies and are able to choose when and with whom they should have children"said Cheikh Fall, UNFPA Representative in Guinea-Bissau, recalling that this year 2019 marks the 25th anniversary of the International Conference on Population and Development in Cairo. He emphasized that On World Population Day, activists around the world call on leaders, legislators, grassroots organizations, institutions and others to help make reproductive health and right a reality for all.
This event not only marked the 25th anniversary of the International Conference on Population and Development (ICPD) (1994-2019), but also the 50th anniversary of UNFPA since its creation (1969-2019) and  40 years of UNFPA in Guinea-Bissau (1979-2019).