ICPD and sustainable development in Guinea-Bissau
The focus on human rights, the mission for gender equality and universal access to quality public services should continue to guide the actions of governments and civil society, stated, Cheikh Fall, the United Nations Population Fund (UNFPA) representative in Guinea-Bissau during a debate at the Portuguese cultural centre in Bissau in June.
Cheikh Fall, emphasized UNFPA mission to deliver a world where every pregnancy is wanted, every childbirth is safe and every young person's potential is fulfilled. Recalling that "UNFPA wishes to achieve three changing results by 2030, the time limit for achieving the Sustainable Development Goals, ending unmet need for family planning, ending preventable maternal death, and ending gender-based violence and harmful practices".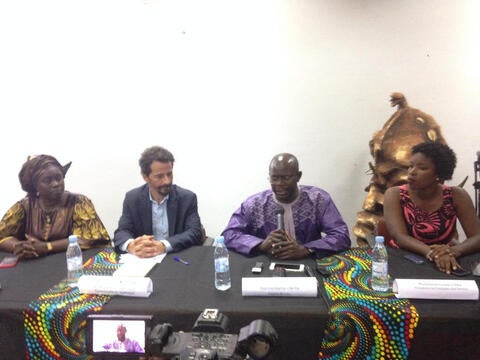 This initiative marked the launching of the ICPD road map in Guinea-Bissau, alluding to the 25th anniversary of the International Conference on Population and Development (ICPD) and the 40th anniversary of UNFPA's presence in Guinea-Bissau.  The innovative approach of the ICPD has been consolidated over the past 25 years in a number of global documents and commitments, including the 2030 Agenda for Sustainable Development, with the intervention of States, parliamentarians, academia and civil society a fundamental challenge of not forgetting or leaving anyone behinds.
Fall highlighted that the 2030 Agenda can be achieved in conjunction with strategic partners. "There is need for stronger leadership in matters of Equality, Education and Sexual and Reproductive Health that respond to the health needs facing the country, and it is also important to work with young people and the civil society". 
During the high level event dedicated to the themes of Girls and Women, aimed at alerting and identifying the opportunities, socioeconomic implications and contributions to local and global development, also associated with the implementation of the Agenda 2030, participants including Diplomats from the Portuguese Embassy in Guinea-Bissau, UNFPA country representative, local and international NGOs, Civil Society, and others, witnessed the signing of a Cooperation Protocol between the Ana Pereira Foundation and the P&D Factor (Population and Development), two non-profit associations advocating for Human Rights.
Dr. António Nunes, Attaché for Cooperation at the Portuguese Embassy in Bissau stated "sexual and reproductive health is an essential component of the universal right to physical and mental health and is an issue that concerns both men and women" before concluding that " Sexual and reproductive rights assume that everyone has the right to a healthy, safe, and consensual sex life; have enough information to be able to make decisions and look for healthy behaviours; as well as having adequate health services available".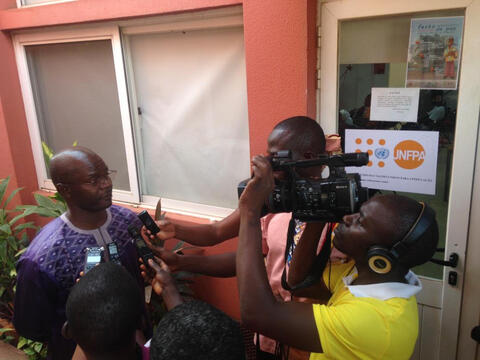 The president of P&D Factor, Graça Campinos Poças highlighted the importance of the Nairobi summit emphasizing that "It is inevitable to recall the innovative and transformative agenda resulting  from the International Conference on Population and Development (ICPD) held in Cairo in 1994, this conference drew attention to the intrinsic relationship between population and sustainable development based on individual and collective well-being in respect for human rights".
Road map and way forward
UNFPA International Technical Specialist in Guinea-Bissau, Dr. Jean-Pierre Makelele, exhibited and explained the roadmap to Nairobi during the high level event with 5 milestones:
7 June –

Debate  on ICPD25

;

18 July

– National Workshop with the Presentation of the World Population Report 2019 and Reflection of the 40 years of UNFPA in Guinea-Bissau;

31 July

– Validation and Presentation Workshop on the revision of the new National Reproductive Health Policy;

27 September

– Graduation Ceremony of 21 Midwives; 

24 de Outober

– Symposium with traditional and religious leaders on the three transformative results of UNFPA.
Besides the positive trend and results achieved over UNFPA 40 years in Guinea-Bissau, there are still many challenges to which the country needs to respond, "Despite our presence and countless progress over the past 40 years (1979-2019), many reproductive health indicators are still in the red" described Jean Pierre.
He concluded arguing that "Some of the challenges we are currently facing include high maternal mortality rate (900,000 for every 100,000 according to MICS 2014), the rate of assisted delivery is very low standing at 45% as well as low prevalence of contraceptives. Unmet needs for family Planning are very high (22%), and there is persistence of cases related with gender-based violence and harmful practices".