Bissau, 24 January 2020 -- The United Nations Population Fund (UNFPA) and the Ministry of Public Health (MINSAP) reaffirmed their commitment to work to increase the prevalence rate of Family Planning and reduce maternal and neonatal morbidity and mortality in Guinea-Bissau, with the delivery of a batch of 2240 (two thousand two hundred and forty) kits containing folders, flipchart albums, vests, mannequins, and megaphones, Friday, January 24, 2020, for community awareness activities on reproductive health with a special focus on family planning.
The ceremony took place in the Ministry of Public Health, in an act chaired by the Minister of Public Health, Dr. Magda Nely Robalo e Silva, in the presence of the United Nations Population Fund Representative, Cheikh Fall, and technicians and directors of that Ministry.
On the occasion, Magda Robalo said that the offer represents a major gesture in efforts against unwanted pregnancies and preventable maternal deaths in Guinea-Bissau.
"We will continue to work with UNFPA to achieve the three transformative results by 2030 together, zero unmet family planning needs, zero preventable maternal deaths, and zero gender-based violence and harmful practices such as child marriage and female genital mutilation" stated the Minister.
The kits were delivered by the UNFPA representative in Guinea-Bissau, as part of the implementation of the Reproductive Health Products Safety project, which in turn stated that "This gesture is a testament to UNFPA's unwavering commitment and devotion to supporting the Government of Guinea-Bissau to improve maternal health in the country".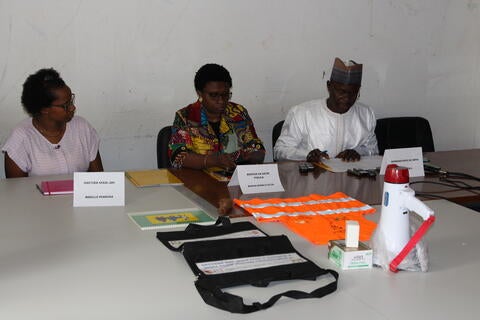 The parties also considered that the materials and equipment donated, will only contribute to the benefit of the target audience for which they are intended, if they are well managed and there is an effective ownership of them.
Data on maternal mortality and unfulfilled family planning in Guinea-Bissau continue to be a cause for concern, 900 (nine hundred) maternal deaths per 100,000 (one hundred thousand) live births to which are added 22% (twenty-two percent) of unmet needs for Family Planning, according to MICS 2014 data. These figures translate into many unwanted pregnancies and many maternal deaths in Guinea-Bissau.